Amphibious Pontoon Undercarriage
Our marsh buggy/amphibious excavator can adapt to various brands and models of upper excavators, ranging from 5 tons to 40 tons.
Hydraulic Positioning Pile
The Advantages of Amphibious Excavator/Marsh buggy excavator Fabricated by RIVER :
Patented technology and ISO9001 quality certificated;

Customized pontoon undercarriage, to meet various construction projects;

Increased height of the chain plate, reinforced track chain and anti-corrosion;

Designed support bar inside the chain plate, more load capacity durability;

Modular design facilitates transportation and on-site installation
Specialized Track Shoes Material
As the most imperative wear part, the track shoe cleats we produce are of China WISCO's super high strength welding structure steel HG785D whose yield and tensile strengths are 685MPa and 785MPa respectively. Its impact energy under -20℃ is above 47J, and it enjoys good weldability and formability. The same material is selected for reinforcing the conjunction part of the pontoon's side plate and top plate which is one of the key parts deciding the framework's firmness. We choose stronger material than any other competitors around the world to effectively avoid the pontoon structure from deformation and win exceedingly high comments from customers about our track shoe cleats' wearability and durability.
Track Chain Roller
We choose 40Cr steel (DIN 41Cr4) for our track chain rollers which are one of the most critical wear parts during the excavator's daily operation. All rollers must be put through heat treatment including quenching and tempering to enhance the hardness to HRC50-56.
Wear Pad for Resistance
To ensure the wear pad would not be easily worn out by the track chains, we chose a special wear-resistant material NM400 for longevity. A high-quality material selection will extend the pontoon's lifespan by 1-2 years on average.
Screws Adopted for Amphibious Excavator
All screws equipped on our swamp buggy are treated with the Dacromet process and must go through a salt spray test which lasts for 1000 hours. This highly improves the anti-corrosion ability of the screws, and thus allows the excavator to work longer in a more severe working environment. The maintenance and replacement cycle of spare parts are thus extended.
Hydraulic Oil Pipes & Fittings
The hydraulic oil pipe and fittings are imported from well-known brands with good durability, and the external surface of all oil pipes is coated with a protective layer of PVC to enhance their wear-resistant and corrosion-resistant properties. A tidy layout is maintained for all oil pipes in an orderly manner.
Guide&Drive Wheel Heat Treatment
To ensure reliable hardness and strength, both the front idler and drive sprocket of the PONTOON are specially heat-treated.
Heavy duty processing equipment, better processing skills

High-precision equipment, excellence, Quality Assurance.

Robotic Welding of Pontoon Undercarriage

More than ten years of welding experience, meticulous and precise.

The sandblasting process removes rust strongly, Each pontoon must go through shot blasting till Sa2.5 grade with surface roughness within 30-70um before getting coated.

Special paint for marine ships, The thickness of coating layer must achieve 160~200um and each pontoon must have 2 layers of primer and two layers of top coats.

Each H frame is machined as a whole by a gantry type machining center and the circle of bolting holes are milled by the hole milling machine.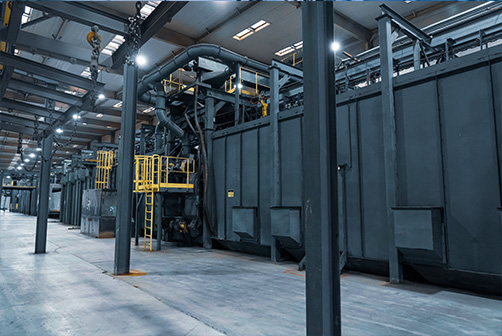 Fully Automatic Shot-blasting And Painting Line
| Model | Single Pontoon Size | Total Weight | Total width | Side Pontoon | Side Pontoon Weight |
| --- | --- | --- | --- | --- | --- |
| RS80-A | 5700*1000*1300mm | 5.65T | 3000mm | 5500*900*700mm | 1.4T |
| RS150-A | 7000*1250*1600mm | 10.5 | 3650mm | 6500*1250*800mm | 2.6T |
| RS215-A | 8000*1500*1800mm | 15.1T | 4500mm | 7000*1250*1000mm | 3.0T |
| RS250-A | 8500*1600*1900mm | 17.9T | 4800mm | 7500*1500*1200mm | 3.2T |
| RS300-A | 9000*1650*2000mm | 22.2T | 5100mm | 8000*1500*1200mm | 3.8T |
| RS400-A | 10500*2000*1840mm | / | / | / | / |
FIND YOUR RIGHT SOLUTION WITH RIVER HEAVY INDUSTRY
At RIVER HEAVY INDUSDUSTRY , we are committed to the delivery of quality amphibious excavators and excavator attachments. Please fill out the form below to get in touch with us! We'll get back to you as soon as we can.