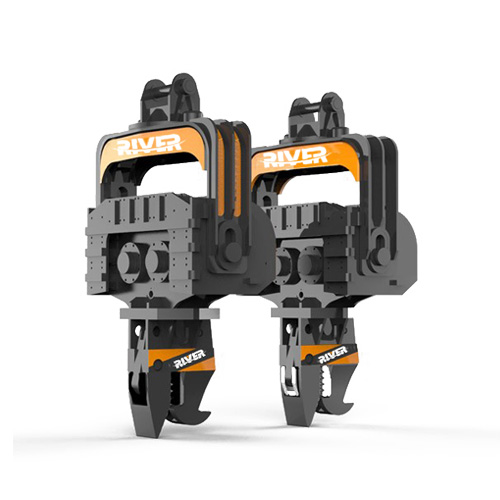 Pile Driver
The high-frequency hydraulic vibratory pile driver is referred to as the pile driver. It is used in the construction of various projects such as buildings, bridges, streets, river embankments, etc., for the improvement and reinforcement of pile foundations and foundations; important machinery. Its function is to drive various types of piles into the soil to improve the bearing capacity of the foundation.
According to the working conditions and customer operation requirements, our company has developed two styles: vertical and horizontal.
Features of Pile Driver fabricated by RIVER
①Hydraulic rotary motor and gear are built-in, which can effectively avoid oil pollution and collision.
②The box adopts an open structure to ensure the pressure balance in the box and stable heat removal.
③Adopt high-performance imported shock-absorbing rubber blocks, with stable quality and long service life.
④Using the original imported hydraulic motor, the performance is stable and the quality is superior.
⑤The clamping nozzle oil cylinder has strong thrust and pressure retention, which is stable and reliable, ensuring that the pile body is not loose and ensuring construction safety.
⑥The material of clamping nozzle adopts imported wear-resistant plate, which has stable performance and long service life.
| MODELS | RP-250 | RP-330 | RP-350 | RP-450 |
| --- | --- | --- | --- | --- |
| VIBRATION FREQUENCY (rpm) | 2800 | 2800 | 2800 | 2800 |
| ECCENTRIC MONMENT (N·M) | 40 | 50 | 70 | 85 |
| VIBRATION FORCE (KN) | 360 | 450 | 650 | 790 |
| HOST WEIGHT (kg) | 2200 | 2500 | 3000 | 3200 |
| AUXILIARY ARM WEIGHT (kg) | 800 | 800 | 900 | 900 |
| HYDRAULIC SYSTEM OPERATING PRESSURE (bar) | 300 | 320 | 320 | 320 |
| HYDRAULIC SYSTEM FLOW REQUIREMENTS (lpm) | 220 | 250 | 300 | 300 |
| THE LONGEST PILING LENGTH (m) | 9 | 15 | 18 | 22 |
| SUITABLE FOR EXCAVATORS (Ton) | 18-25 | 26-35 | 36-50 | 46-65 |